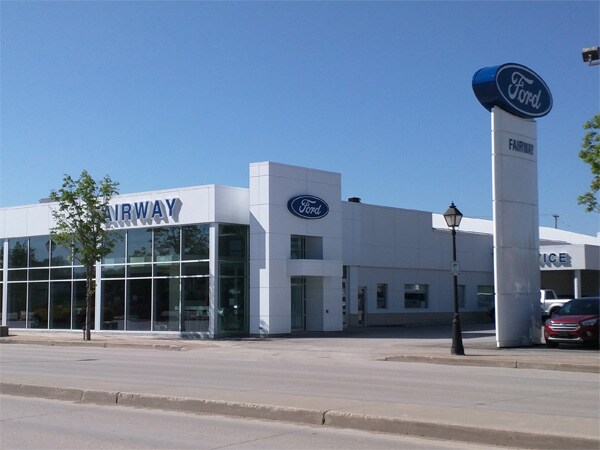 Located at 236 Main Street Steinbach, Ron Loeppky Fairway Ford is located in the hub of Southeast Manitoba. Steinbach has been named as the 3rd largest city in Manitoba, also being known as the Automobile City.
Our Building has been a part of Main Street Steinbach since 1903 and became the one of the first Ford Dealerships (J.R. Friesen and Sons) in Western Canada in 1914.
  

 When you walk into our building you will have a sense of belonging, knowing that your great-grandparents, your grandparents and your parents have been able to walk through these doors and purchase their vehicles here. 
 
   From Vehicle Sales, Parts and Service; to Autobody Repair and Auto Reconditioning; to School Buses and Mobility Vehicles, we take care of you and your vehicle every step of the way. Come into today to find out about the Fairway difference for yourself.
 We look forward to you joining the Fairway Family. Give us a call at 1-877-808-1715
                                       

                                             The History of Owners
    J.R Friesen owned J.R Friesen and Sons until he passed away in 1950, his son EJ Friesen took over the business until 1972 when EJ sold it to partners Elvin Fast (Dealer Principal), Alvin Reimer, Jake Ketler and Art Berg. They then sold it briefly to Peter Friesen who in 1982 sold it to Floyd Hiebert (Dealer Principal) who partnered with Ike Kroeker, Ken Reimer, and Dave Hiebert. Floyd changed the name of the company in 1983 to what we know it as today, Fairway Ford. In 1992 Flyd sold the business to Helmut Pankratz who owned it for 3 years. In 1995 Bob Banman and Ron Loeppky partnered, with Ron taking sole ownership in 1996.